As an extension of the Hignell Suite of Companies, Hignell Rentals is excited to announce that The Hignell Companies is celebrating 75 years in business and marking this milestone anniversary by launching a new logo for the Hignell brand.
With the ongoing mission of Creating Caring Communities, the logo development team identified three values that the Hignell brand has embodied historically and will continue to strive towards in the future: community, excellence, and innovation. The new logo is designed to capture these three values in a well-thought-out way.
There was a significant amount of time and thought that went into the design of the new logo and we're excited to share some of the insight into the process.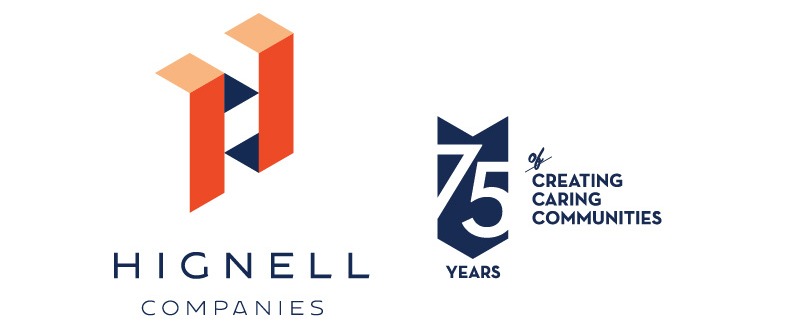 A Brief History
In 1948, Fred Hignell Jr. and his partner Floyd Strange laid the foundation for The Hignell Companies by building over 1,000 homes in 25 subdivisions, in addition to apartment and commercial projects. Doug Hignell joined his father in 1970, bringing with him new vitality and an expanded vision for the company. Over the years, The Hignell Companies have built numerous multi-family, single-family, commercial and retail properties, along with an elder care facility.
While new opportunities bring change and growth, the deep commitment of service and caring for people that were the foundation of the company 75 years ago is still the commitment we hold today.
As The Hignell Companies looks to the next 75 years, Hignell Rentals believes your home is your castle. You want to rent from a company you can trust to take care of your home or apartment and care about you as a person, not just a number. That's why Creating Caring Communities is always at the forefront of all we do.
Whether you're searching for rentals, moving in, or you've made Hignell Rentals
your home, we are here to help you have the best experience living in the North
State.
Topics: News